BRP ADHIKARY CHEMICALS PVT. LTD . is a Private incorporated on 22 May 2020. It is classified as Non – govt . company and is registered at Registrar of Companies , Kolkata . Its authorized share capital is Rs . 1500000.00. BRP ADHIKARY CHEMICALS PVT. LTD . with CIN U24304WB2020PTC237221 , is a 0.2 Years old , Private Un Listed Indian Non-Government Company , registered at Kolkata ( West Bengal ) , with a paid up capital of Rs . 1500000.00 Lakhs . As per MCA and other Industry classification records , the main line of business is Manufacture and Trade of Chemicals and Chemical products . 
The status of BRP ADHIKARY CHEMICALS PVT. LTD ., as on date is active .
As on date , 2 directors and 1 signatories are associated with the company .
There are no directors in this company who are 'Disqualified by ROC u/s 164 (2) ' or 'DIN is deactivated due to non-filling of DIR-3 KYC form ' as everyone filed their KYC promptly .
The company has 2 directors and no reported reported key management personal .The longest serving directors currently on board are Rajib Adhikary and Nilanjana Adhikary who were appointed on 22 May , 2020 . they have been on the board for 1 months.
Rajib Adhikary has the largest number of other directorships with a seat at a total of 1 companies . In total , the company is connected to 0 other companies through its directors .
Mrs. Nilanjana Adhikary
Director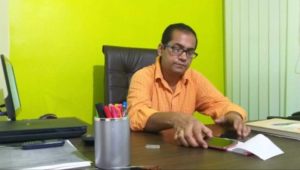 Mr. Rajib Adhikary
Director
Other Management Employee
Mr. Suvick Ghosh
Marketing Head
Mr. Sorup Kumar Roy
Dispatch
Mr . Sujoy Malakar
Mr. Dilip Kumar Chakraborty
Accounts